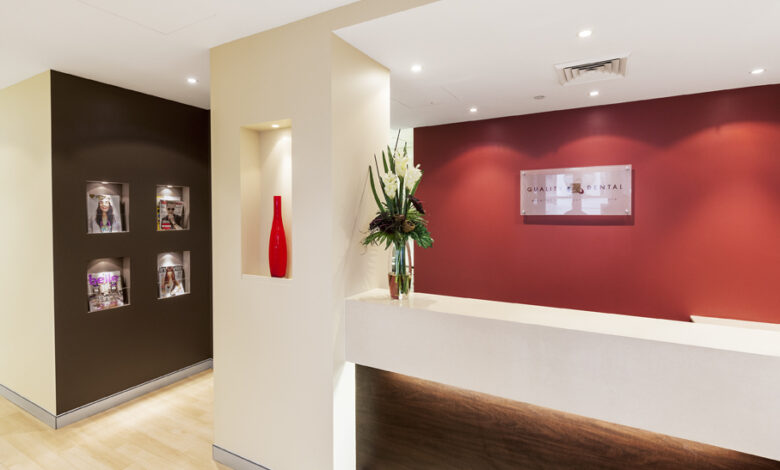 Quality Dental North Sydney
Quality Dental, North Sydney is a state of the art facility located in the pedestrian mall of Elizabeth Plaza, North Sydney, Australia. Quality Dental employs the latest technology to provide the highest standard of care for dentistry in North Sydney. The office is paperless, from the first contact form delivered by iPad through to digital x-rays, which enable the lowest exposure of radiation possible. Quality Dental prides itself on being environmentally conscious, and as such, has limited the consumable waste to a minimum.
Quality Dental is currently undergoing Voluntary Practice Accreditation through Quality in Practice to stand out amongst its peers for quality assurance.
Dr. Luke Cronin
Dr Craig is the owner and Principal Dentist of Quality Dental and founder of Ask the Dentist – Australia, an online oral health resource (http://www.askthedentist.net.au). Dr Cronin completed his Bachelor of Dental Science in 2000 at the University of Queensland and has experience in private and public practices within Australia (NSW, ACT, Queensland and the Northern Territory) as well as internationally in the UK, USA, Solomon Islands and East Timor. Supporting his belief in the importance of continuing professional education Dr Cronin completed his Graduate Diploma in Clinical Dentistry from the University of Sydney in the field of Conscious Sedation and Pain Control in 2006.
Dr Craig provides treatment in all aspects of general dentistry and is highly adept at smile design in the field of cosmetic dentistry. With an eye for fine detail and a creative flair Luke can create amazing aesthetic results. Dr Cronin's commitment to excellence in this field is being constantly furthered through continuing education and membership of the American Academy of Cosmetic Dentistry.
Dr Craig is a member of the International Team of Implantology in the field of dental implants. Dr Cronin will only place implants after meticulous planning to ensure all surgical placements are in line with the cosmetic and functional outcomes desired by the patient and himself.
Dr Craig's passion for community dental health education has led him to develop an online oral health resource, "Ask the Dentist – Australia". Ask the Dentist is an online blog that provides a 'live' question and answer forum allowing the community to ask Dr Cronin dental health questions. The aim is to provide the Australian community with free access to information about dentistry and to remove the barrier of cost for dental education. A population of well educated patients will be better able to make decisions about their dental care. Dr Cronin's interest in public health dentistry has been furthered by studying a Master of International Public Health at the University of Queensland that is due for completion in 2013.
Dr Craig is an active member of Bronte Surf Lifesaving Club and enjoys spending his weekends during summer volunteering on patrol at Bronte Beach. Dr Craig's other professional memberships include the Australian and American Dental Associations.