Invisalign Vs Braces
Invisalign Vs Braces, is Invisalign really better than having traditional braces?
While effective in delivering straightening results, traditional braces are obviously not the most appealing dental devices you can wear. Even worse, they are known to attract unkind jokes and nicknames to the wearers. And that's just one of many reasons why so many of us dread the thought of wearing dental braces.
Thankfully, advances in dental technology and material sciences have given us a modern alternative in Invisalign. Offering what is commonly referred to as "Invisible Braces", the Invisalign system boasts major advantages over traditional braces – and we're not just talking about cosmetic improvements…
Here are some meaningful comparisons between Invisalign and traditional braces to clarify the differences: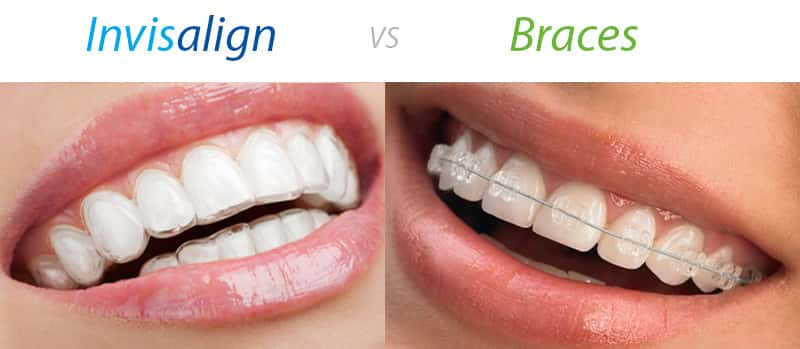 "Invisible Braces": The Choice is Clear
Invisalign aligners are removable dental devices made from clear plastic. The clear aligners snugly fit over one's teeth and are virtually undetectable – even when you're looking at it from close range.
With Invisalign, you can finally undergo orthodontic treatment without the need for gawky metal braces that unwittingly advertise your dental problem. In fact, no one will even notice that you're wearing the aligners! How's that for a discreet way of straightening your teeth!
Removable Aligners: Less hassles for eating and cleaning
This may not sound like much but if you've ever tried to remove food particles that get trapped in the crevices between your teeth and the wires, you would appreciate that Invisalign aligners are removable devices.
Indeed, the removable aligners let you go about your daily routines – like eating, brushing and flossing – without the fear of wires and brackets getting in the way. You won't have to avoid certain types of food or let the treatment affect your oral hygiene habits.
Orthodontic treatments do not need to significantly alter your lifestyle behaviours. With Invisalign, you get to enjoy the great results but not the inconvenient hassles!
No more poking and irritation
Traditional braces are as uncomfortable to wear as they are to look at. With sharp edges and wires sticking out, traditional braces can cut into the wearer's mouth and cause much discomfort. Conversely, the smooth and soft plastic material of the Invisalign aligner feels gentle on your gums and delicate on the tissues in your mouth.
Considering the long periods of time the device remains in your mouth, the increased comfort is definitely a welcome feature that Invisalign offers.
No more tooth discolouration
Since traditional braces are bonded to the teeth, they tend to leave discoloured markings on the teeth after they are removed. Invisalign are custom-designed trays that fit exactly over your teeth. They do not require any bonding material or adhesives to hold them in place. As such, patients retain their original teeth colour and avoid the discolouration problem that may be caused by these substances.
Great for adults too
It isn't surprising that Invisalign enjoys growing popularity amongst adult patients. The fact that the aligners go virtually undetected means that adult wearers are able maintain their normal social and professional activities – without fearing the social stigma of wearing metal braces. No unnecessary attention or awkward stares. With Invisalign, you can attend the most important business or social function with ease and comfort.
Discover the Invisalign way to straight and beautiful teeth – call Quality Dental (Invisalign Diamond Provider) at (02) 9922 1159.